A scooter is one of the vehicles for traveling Lamay island (Xiao Liuqiu). A scooter is shared by 2 people, and it is used 24 hours. Vacation package includes scooter rental, and we can rent it for you. All you need to do to be able to get riding in Taiwan and present your Taiwanese driver's license.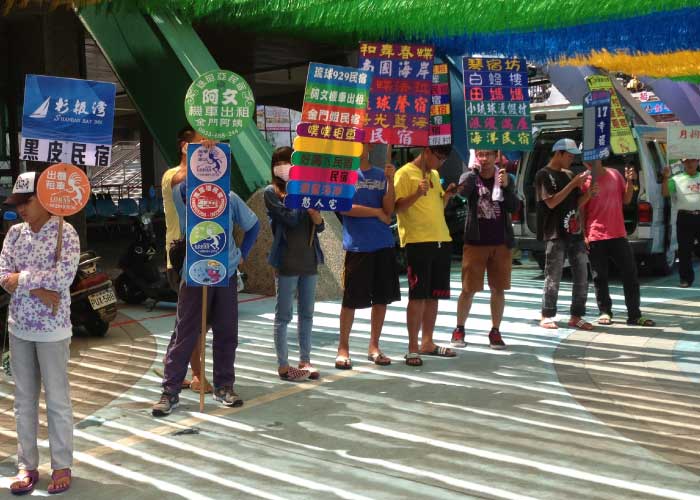 Arrived at Baisa Pier, please look for the scooter rental cooperator who's holding the sign of Shanban Bay Inn. He/she will assist you to get your rental scooter and lead you to Shanban Bay Inn.
Rental and riding notes: 
(1) A scooter can shared with 2 people for 24hours.
(2)Overtime charge: NTD50/per hour on weekdays; NTD100/per hour on weekend.(Maximum NTD 300/per day)
(3)Must show your scooter/motorcyle licence to rent the vehicles.
(4)Must wear helmet for your safety.
(5)Suggest to carry 20-Inch Carry-On Luggage or backpack in order to load it/them onto a scooter.

According to Taiwanese Transportation and Communications, person who has No motorcycle license but have driver license or international driver permit is only enable to rent a electronic scooter.

No scooter/motorcycle licence,you can only ride electronic bikes or take bus.

More information about other vehicles in Xiao Liuqiu, please contact us for further information.
【杉板灣民宿Shanban Bay Inn】
★service time: 10:00 - 21:00
★official web:http://www.sbbay.com.tw/en
★2D1N trip recommendation:https://goo.gl/gr5hPG

shanbanbay@gmail.com

08-8613300

Booking Advice&Room Reservation